Book 3: Diesel Engine Sensors
Die Buchserie "Signale in Bildern" wurde um Band 3 "Dieselmotor Sensoren" erweitert. In diesem Buch werden die Funktionsweise aller Sensoren von älteren und aktuellen Dieselmotorregelungssystemen anschaulich in Form von Bildern, Schaltskizzen und Oszilloskopbilder beschrieben.
Das Buch umfasst 84 Seiten und beschreibt typische Sensoren des Selbstzündungsmotors, wie verschiedene Drehzahlsensoren bei Dieselmotoren, Nockenwellensensoren, Differenzdrucksensoren bei Fahrzeugen mit Partikelfilter, Kraftstoffmengensensoren, Ladedrucksensoren, Luftmassenmesser, Nadelhubgeber, Stellungssensoren der Abgasrückführung, Tankverschlusssensor und sämtliche Raildrucksensoren der verschiedenen Hersteller Bosch, Delphi, Denso und Siemens. Entsprechende Sollwerte der verschiedenen Sensoren werden in unterschiedlichen Drehzahlbereichen dargestellt.
Dieses Buch richtet sich vor allem an Personen, die beruflich mit Diagnosearbeiten an Dieselmotoren zu tun haben.
Mit diesem Buch kann man treffsichere Diagnosen stellen und so Fehldiagnosen vermeiden.
Die Beschreibung der Sensoren ist einfach gehalten. Es wird bewusst auf lange Erklärungen der Funktionsweise der Sensoren verzichtet, sondern mit Hilfe von Signalbildern werden Gut- und Fehlerbilder gezeigt. So kann man sehr leicht defekte Sensoren oder Fehlfunktionen finden und den Fehler anschließend beheben.
Dank den Stromlaufplänen werden die Zusammenhänge der Sensoren mit dem Motorsteuergerät erläutert.Die zusätzlichen Messwerttabellen runden das Ganze ab.
Preview
Browse the first 15 pages of Volume 3 "Diesel Engine Sensor".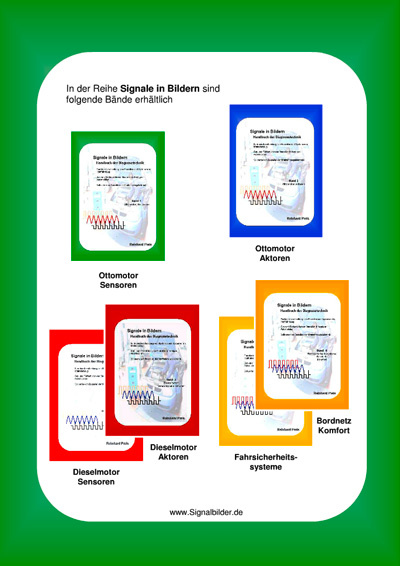 Contents
This book contains information about the following components.
brake pedal switch
data cable CAN Bosch VP44
differential pressure sensor particle filter Peugeot HDI
angle sensor Bosch VP 44
speed sensor aktive engine
speed sensor passive engine
accelerator pedal module
start-of-delivery sensor, needle-lift sensor VP37 / VP44
accelerator sensor analogue
accelerator sensor digital
HDK sensor, fuel quantity sensor Bosch VP 37
knock sensor common rail Delphi
fuel-quantity sensor, HDK sensor distribution injection pump
fuel-quantity sensor, Regelweggeber in-line injection pump
boost-pressure sensor
air-mass flow meter
air-mass flow meter with digital output-signal (HFM 6)
air-volume flow meter
needle-lift sensor, start-of-delivery sensor Bosch VP 37 / VP44
camshaft sensor, phase sensor
rail pressure sensor common rail Bosch piezo-injector
rail pressure sensor common rail Bosch coil-injector
rail pressure sensor common rail Bosch coil-injector tuning
rail pressure sensor common rail Delphi coil-injector spherical-rail
rail pressure sensor common rail Delphi coil-injector rail
rail pressure sensor common rail Denso piezo-injector
rail pressure sensor common rail Denso coil-injector
rail pressure sensor common rail Siemens piezo-injector
rail pressure sensor common rail Siemens piezo-injector spherical-rail
rail pressure Regelweggeber, fuel-quantity sensor in-line injector pump
position sensor exhaust gas recirculation
position sensor guide vanes (VTG-Turbocharger)
fuel filler-cap sensor Peugeot / Citroen HDI
temperature sensor intake-air analogue and digital
temperature sensor fuel
temperature sensor coolant
temperature sensor particle filter PTC
back-pressure sensor BMW common rail